Wednesday, February 2, 2022 @ 5pm Eastern on Zoom
Andie Tucher - Director, Communications Ph.D. Program Columbia Journalism School
Tucher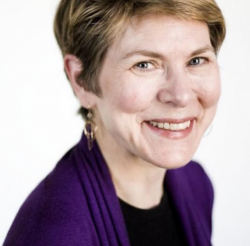 Andie Tucher, a historian and journalist who has taught at the journalism school since 1998, writes widely on the evolution of conventions of truth-telling in journalism, photography, personal narrative, and other nonfiction forms. Her book "Not Exactly Lying: Fake News and Fake Journalism in American History (link is external)" will be published in February 2022 by Columbia University Press. Her previous book "Happily Sometimes After: Discovering Stories From Twelve Generations of an American Family (link is external)" (UMass 2014) explores stories told by her ancestors as truthful to make sense of their world — stories about kidnaps, murders, changeling children, lost fortunes and how the great-grandmother of Chief Justice John Marshall married Blackbeard by mistake. Tucher is also the author of "Froth and Scum: Truth, Beauty, Goodness, and the Ax Murder in America's First Mass Medium (link is external)" (UNC 1994), which won the Allan Nevins Prize from the Society of American Historians. 
Before coming to Columbia, Tucher served as a speechwriter for Clinton/Gore '92. She was an editorial associate to Bill Moyers at Public Affairs Television and edited his book "World of Ideas II" (1990). She also served as editorial producer of the historical documentary series "The Twentieth Century" at ABC News and an associate editor of Columbia Journalism Review. 
Her articles, many of which are available on Academia.edu (link is external), have appeared in Photography and Culture, American Journalism, Book History, Journalism History, Journalism Practice, Columbia Journalism Review, Humanities, common-place.org (link is external), and other scholarly and popular publications.  
Tucher graduated from Princeton as a Classics major, earned her M.S. in rare-book librarianship from Columbia's bygone School of Library Service and holds a Ph.D. in American Civilization from New York University. She is a faculty member in the journalism program of the Fellowships at Auschwitz for the Study of Professional Ethics (link is external). In 2010 she was elected Executive Secretary of the Society of American Historians (link is external). She isn't a bad photographer but wishes she were a better pianist.
Abstract:
Fake news has been part of the American media landscape for as long as there's been an American media landscape. No history of American journalism is complete without an accounting of the many ways that the information system of democracy—the critical but unsecurable infrastructure of civic life--has been invaded and exploited over the years by hoaxers, humbuggers, propagandists, puffers, partisans, blusterers, scandal-mongers, and fraudsters with motives of their own. The relationship between journalism and truth has always been more fragile than many of us realize.