Dis- and Misinformation, Extremism, and the Internet
Brandy and Ben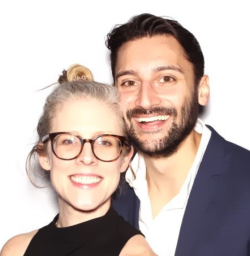 Biography of Brandy Zadrozny
She launched her career in journalism in 2013 by working at The Daily Beast. Since 2018, Brandy has been working as a journalist for NBC News.
At NBC News, she has written on the "depressing" aspects of the Internet. Her reportings mostly focus on political extremism and conspiracy theories such as QAnon and the Stop the Steal movement. Also, Brandy covers stories concerning disinformation on social media and particularly as it pertains to the COVID-19 pandemic as well as anti-vaccination activism. NBC News said Brandy is "relentlessly well-researched as well as sophisticated in her understanding of disinformation and conspiracy theories on the Internet..they couldn't be prouder of Brandy and that they will continue to vigorously support her work."
Biography of Ben Collins - coming soon
Abstract
Brandy Zadrozny and Ben Collins will be discussing disinformation and conspiracy theories that have spread and divided Americans. Collins and Zadrozny have extensively covered dis- and misinformation, extremism, and the internet. Their recent stories have included social media's response to Russian disinformation, the antivaccine movements' windfall during the pandemic, and the role of the QAnon movement in our national life.